Prep star Matthew Maton delights the Oregon Twilight crowd with a sub-four mile
By 
Ken Goe | The Oregonian/OregonLive 
Email the author
 | 
Follow on Twitter
on May 08, 2015 at 9:18 PM, updated 
May 08, 2015 at 10:34 PM
EUGENE – Oregon seniors Eric Jenkins and Will Geoghegan led prep star Matthew Maton under four minutes Friday in the mile as the Oregon Twilight closed with a slam-bang finish at Hayward Field.
Jenkins took control of the race on the back straight and held off Geoghegan to win in 3 minutes, 57.09 seconds.
Geoghegan, pushing hard to the finish, was 
second in 3:57.53.
But the attention of most of the 5,717 fans was riveted on Maton, a senior at Summit High School, who was trying to make history and closing hard.
"I put it all into the last lap," said Maton, who finished and looked – along with most of the crowd – to the video board on the south end of the track.
Maton's time went up as 3:59.38, and the crowd erupted. Maton covered his face with his hands and fell on the track.
"I was really nervous it was going pop up, and it was going to be 4:00," he said. "I mean, that's fast, but you don't get anything for it."
This was faster. The only U.S. high school athletes who have run faster are national prep record-holder Alan Webb (3:53.43) and Jim Ryun (3:55.3).
The action in this meet was fast and furious once the one-hour window for the Pac-12 Networks telecast began.
-- Matthew Centrowitz fought off one of Andrew Wheating's patented, out-of-the-back kicks to win a tactical 800 meters in 1:48.46. Wheating crossed in 1:48.70.
-- Decathlon world record-holder Ashton Eaton got nosed out at the finish line in the 100 meters by Portland-based pro Joe Morris, and in the 400 by Olympic silver medalist Bryshon Nellum.
The 400 was so close it took a photo to determine the winner.
-- Oregon Track Club Elite's Mac Fleet had just enough oomph on the home straight to win a wild 1,000, with teammate Jordan McNamara attempting to squeeze past him on the rail and Oregon's Johnny Gregorek kicking like crazy on the outside.
-- Oregon's Edward Cheserek conserved his energy and extended himself only enough to stay in front of Eugene-based, Nike pro Trevor Dunbar and win the 3,000 in 7:57.97.
-- UO senior Johnathan Cabral won the 110 hurdles in a swift, wind-legal 13.75 seconds. But UO fans won't like the way Cabral grabbed his right hamstring as he finished. The Pac-12 Championships are next weekend at UCLA.
"I don't really know what happened," Cabral said. "I'm just going to go get treatment and continue working on it."
-- World championships heptathlon silver medalist Brianne Theisen-Eaton took only two attempts in the long jump and was experimenting with a new approach. She won anyway, leaping a lifetime best 21 feet, 8 ¼.
But the best was last, a men's mile that lived up to the hype.
Jenkins, who has been distance training, dropped down to run it, and was fighting the wind on the last lap's back straight.
"It's easy to say the splits," he said. "It's a lot harder to go run them.."
Especially when you're being stalked by Geoghegan, who set himself for an attempt to win coming off the Bowerman Curve.
"Will has a real habit of being right on my ass on that last straightaway," Jenkins said. "I knew he was there. He's strong. He's incredible. "
Jenkins glanced at the replay screen as he headed to the finish line, and sure enough, there was Geoghegan.
"I thought I had a shot," Geoghegan said. "I think we were both saving a little something for the last straight. He had a little more than me."
Not much.
And then, there was Maton, who felt he was all but out of contention for the four-minute barrier when he heard his split at the start of the bell lap.
That is when he threw caution to the wind and dug into his soul for the final 400. He began making up ground.
"With 150 to go I saw I was closing on Eric and Geoghegan," he said. "I knew if I could get somewhat close to them, I'd do it."
The 800 had an entertaining finish between ex-Oregon stars Centrowitz and Wheating, both Olympians.
Centrowitz was third at the bell, and shifted into gear going into the wind with about 250 left. He seemingly had control on the home straight.
"I glanced at the board once with about 40-50 meters to go," Centrowitz said. "I was still a little ways from the finish, but I felt I had a comfortable win."
Wheating's kick is legendary, and the crowd in the west grandstand came alive as he made a late bid.
"I probably would have had him if there was another five or six more meters," Wheating said.
The finish in the 1,000 was just as fun. Fleet had the lead coming off the Bowerman Curve and onto the straight. But McNamara saw an opening inside and went for it. Gregorek was challenging on the outside.
Fleet cut off McNamara to win in 2:21.25. Gregorek couldn't quite overhaul Fleet, and took second in 2:21.32. McNamara third in 2:21.40.
"That final straight was fun," Fleet said. "Jordan should know better, coming on the inside. I definitely closed down on him. That's fun. That's racing. The rail belongs to the guy in the lead."
Eaton didn't win either of his races, although he made a game bid in both. Morris took the 100 in a wind-aided 10.11. Eaton crossed in 10.20.
The 400 was closer. Nellum's winning time was 46.26, and Eaton's 46.27.
"Ashton Eaton is one heck of an athlete," Nellum said. "For him to run the quarter that well and still have nine other events is amazing."
Matthew Maton Becomes Sixth U.S. High Schooler To Break 4:00 In The Mile With 3:59.38 At Oregon Twilight
By LetsRun.com
May 8, 2015
Jim Ryun. Tim Danielson. Marty Liquori. Alan Webb. Lukas Verzbicas. Matthew Maton.
Matthew Maton of Bend, Ore., wrote his name into the history books on Friday night at Hayward Field, running 3:59.38 for the mile to become just the sixth U.S. high schooler (5th American) to break 4:00. Despite windy conditions, the University of Oregon recruit closed hard (we had him at 57.5 on the final lap) to break the barrier on his future home track. He finished third in the race behind current Duck stars Eric Jenkins (3:57.09) and Will Geoghegan (3:57.53).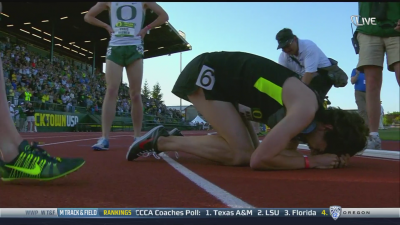 Maton reacts to history
Maton competed in the meet unattached after parting ways with his high school team, Summit High School, in March (check out this Oregonian article for details on the split). Maton, who was 19th at Foot Lockers last fall after taking third as a junior, is now self-trained according to the Oregonian article, working out at Mountain View High School, though he runs his workouts by his mother, Michelle Dekkers, the 1988 NCAA XC champion at Indiana. Maton, who turned 19 on March 28, is older than most high school seniors.
The Race (video of race below results)
The race was not set up for Maton, but rather for Jenkins and Geoghegan, with former Ducks Mac Fleet and Matt Miner scheduled to take the duo through 1000 meters in 2:27 and 1200 in 2:58. The field strung out immediately and Maton settled into sixth place, leading the second pack behind the front five of Fleet, Miner, Jenkins, Geoghegan and Isaac Presson. He hit 409 meters in 61.4 (we got splits off the webstream and they did not always show Maton crossing the line so they may not be 100% accurate) and the pack continued to string out.
Recognizing that it would take a big effort to bridge the gap to the leaders, Maton decided to move back slightly and allow Sam Prakel and an Oregon runner to lead the chase pack and break the wind for him. He did this for the next two laps (2:00.6 at 809 after a 59.2 lap, 3:01.6 at 1209 after a 61.0 lap) and by the time he hit the bell was well back of Jenkins and Geoghegan up front.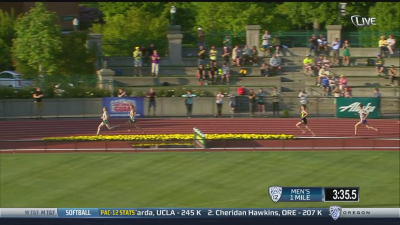 Maton (black singlet) still had work to do on the final turn
Maton would need to close in approximately 58 seconds or faster to get under 4:00. Did he have anything in the tank? Yes. With 400 to go, Maton surged and immediately broke away from the chasers. The strain on his face was evident as he streaked down the back stretch, but he was moving quickly, picking up ground on the leaders with every stride. With 200 to go, he had overhauled Presson and the gap to Jenkins and Geoghegan was shrinking significantly. Sub-4:00 seemed a distinct possibility.
Entering the home stretch, Jenkins and Geoghegan began to pull away — they were kicking now too — but Maton was focused on another foe: the clock. With the crowd cheering him on, he threw himself across the line and awaited his time on the scoreboard. When 3:59.38 flashed on the screen, the crowd erupted and Maton fell to his knees, bringing his head to the track in a display of raw emotion. Unofficially, we had his last lap in 57.5 seconds.
After the race, Dave Ross spoke to Maton for LetsRun.com. Maton said (video below) that he was focused on going sub-four here, as he had run 3:42.54 for 1,500m at the Oregon Relays last month (equivalent to a 4:00-flat mile give or take a few tenths) and this was the last race of the year where he was going to focus on time versus winning the race.
"I knew you're not supposed to fixate on running sub four if you're going to do it as you're going to put too much pressure on yourself, but I would have been disappointed if I didn't (do it)," he said. He said that after a gap opened up to the lead group at the end of the second lap he thought, "Oh gosh I lost it," but his future Oregon teammates (Chris Brewer and Trent Warren we believe) helped keep him in it.
Once he hit the bell he said, "I was a little behind time where I liked to be, so I knew I really had to work the last lap. I just put it all on the line the last lap and it worked out."
America, Meet Your Latest Sub-4:
Results and quick take analysis appear below.
A half-century after a Kansas high schooler ran the mile in under 

4:00

, precious few runners have caught up
ENLARGE
Fifty years ago on Friday, Jim Ryun ran the mile in 3:58.3 at the Kansas state high-school meet. PHOTO: ASSOCIATED PRESS
By 
KEVIN HELLIKER
May 14, 2015 6:37 p.m. ET
On Monday I called Jim Ryun, thinking it would be cool to tell the greatest miler in American history something he might not know about the mile: Last weekend, a high-school student named Matthew Maton ran it in 3:59.38.
But Ryun was way ahead of me, having heard that news within minutes of it happening. "That makes six of us," Ryun said, referring to the number of American high-school students who have run the mile under four minutes.
It was 50 years ago Friday that Ryun broke the tape in 3:58.3 at a Kansas high-school track meet in Wichita, his hometown. Yet it does Ryun little justice to note that only five other high-school runners have reached that goal in a half-century. Of those five, four did so at non-high-school events, meaning they benefited from older and often-faster competition. In breaking four minutes last Friday night, for instance, Maton finished third behind two University of Oregon runners. The fifth student to break four, Lukas Verzbicas, ran 3:59.71 at the 2011 Adidas Dream Mile, an annual competition between the nation's fastest high-school milers.
The six U.S. high schoolers who have run sub-4-minute miles:
·         Alan Webb (Reston, Va.): 3:53.43 (2001)
·         Jim Ryun (Wichita, Kan.): 3:55.3 (1965)
·         Matthew Maton (Bend, Ore.): 3:59.38 (2015)
·         Tim Danielson (Chula Vista, Calif.): 3:59.4 (1966)
·         Lukas Verzbicas (Orland Park, Ill.): 3:59.71 (2011)
·         Marty Liquori (Cedar Grove, N.J.): 3:59.8 (1967)
By contrast, Ryun's run came against narrower and slower competition: his fellow Kansas high-school runners. Even so, his time that day stood as the high-school mile record for 36 years until Virginia's Alan Webb ran the mile in 3:53.43 at the Prefontaine Classic in 2001, finishing fifth behind some world-class stars.
"When someone is setting the pace, it just makes it easier," said Robert Johnson, a founding editor of the website LetsRun.com, noting that pursuing faster runners provides not only a psychological push but potential wind protection.
Let me be clear that this argument doesn't come from Ryun, a 68-year-old former U.S. Congressman now living in Lawrence, Kan. In our conversation this week, Ryun insisted he received a big push 50 years ago at that meet from a Wichita East teammate, Mike Petterson, who managed for half the race to keep pace with Ryun. "Thank you, Mike Petterson," said Ryun.
Ryun's 50-year-old finish still stands as the fastest time in a race between high-school milers. Yet there's another measure by which he stands above the other high schoolers who have broken 4:00. A year before that state meet, Ryun became the first high-school student to break four minutes, finishing eighth behind some international stars with a time of 3:59 at the Compton (Calif.) Relays, a non-high-school event.
At that time, Ryun was 17 years old and 38 days, according to LetsRun—making him by far the youngest high-school runner ever to break four minutes. By contrast, when Maton achieved that feat last weekend, he was 19 years old and 41 days—two years older than Ryun was. Age matters, given that milers tend to peak in their mid-20s.
Here, too, Ryun sounded no competitive notes, choosing instead to praise young runners who participate in the true mile, as opposed to the metric equivalent—the 1,500 meters—that is run these days in international events and most high-school meets. A big supporter of a campaign called Bring Back the Mile, Ryun says that that distance resonates more deeply with the American public. "We drive our cars using miles. We measure our walks by miles," he said. "We lose some of the public when we don't keep a standard they can identify with."
Ryun's legacy is built around the traditional mile, at which he twice held world records, though he also won a silver medal in the 1,500 meters at the 1968 Mexico City Olympics. Four years later in Munich he was favored to win gold until a competitor tripped him in a qualifying heat, ending his Olympic career.
Nostalgic fans of the mile may want to focus their attention on the Adidas Grand Prix in New York on June 13. Along with pro stars such as Jamaica's Usain Bolt, who will race the 200, the meet will feature the high-school Dream Mile, an annual fixture since 2010, this year pitting Oregon's Maton against Michigan's Grant Fisher, who last year beat Maton and took first in 4:02.
"Now the question is whether Fisher can join Maton—and whether we can have two sub-4:00 high schoolers in the same year for the first time in history," says a LetsRun preview of the Dream Mile.
Write to Kevin Helliker at kevin.helliker@wsj.com
Race Video From PAC-12 Network Broadcast:
Discuss Maton's historic achievement on our messageboards:
OFFICIAL MATTHEW MATON SUB-4 THREAD!! HSer runs 3:59.38!!
Quick Take #1: Breaking 4:00 as a high schooler is never easy, and Maton had to run a near-perfect race to do it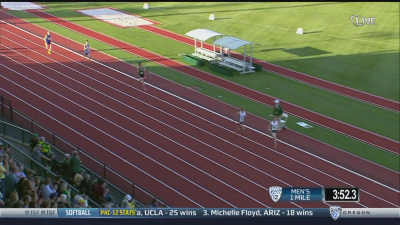 It was Maton vs. the clock on the home stretch
This race was far from an ideal setup for Maton to break 4:00. He had no pacers himself and it was windy, which resulted in him running his first and fourth laps with no one to break the wind for him. Yet he didn't panic, settling into the chase pack for the middle two laps with the confidence that he would have something left for the final 400. Though it certainly helped having Presson, Geoghegan and Jenkins to chase over the final lap, he still had to run into the wind for half of it, which made his 57.5 last lap extremely impressive. Realistically, this race and the adidas Dream Mile were Maton's only two chances to get sub-4:00 this year and he got it done. Congratulations. Now, we wonder if he'll get a spot at the Pre Classic.
Quick Take #2: The new all-time U.S. high school mile list
1. Alan Webb 3:53.43 (2001)
2. Jim Ryun 3:55.3 (1965)
3. Matthew Maton 3:59.38 (2015)
4. Tim Danielson 3:59.4 (1966)
5. Lukas Verzbicas 3:59.71 (2011)*
6. Marty Liquori 3:59.8 (1967)
This was the fastest high school mile since Webb's 3:53 at the 2001 Pre Classic.
*Verzbicas broke 4:00 while a US HS student, but not an American citizen.
Quick Take #3: The adidas Dream Mile just became a must-watch event for all fans of American running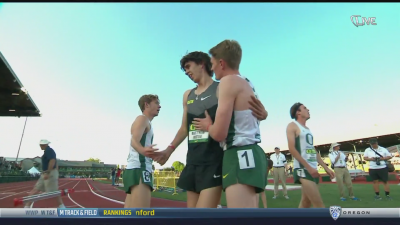 Jenkins congratulated Maton after the race
The Dream Mile, scheduled for June 13 at the adidas Grand Prix in New York, has been attracting the top high school milers for several years now, but few will have the anticipation accompanying this year's edition.
"Wait," you might be saying, "didn't Maton just break 4:00? What is there to be excited about?"
Well, Maton may not even be the best miler in his high school class. Last year's Dream Mile champ/two-time Foot Locker champion, Grant Fisher (4:02.02 PR), ran 3:42.89 last weekend at Payton Jordan (for comparison, Maton ran 3:42.54 at the Oregon Relays on April 17). Fisher has been unbeatable against high school competition the last two years, and he beat Maton at the Dream Mile last year, 4:02.02 to 4:03.23. Both will be running the Dream Mile this year.
A two-time Foot Locker champ against a sub-4:00 guy in a high school race? Yeah, we're pretty excited for that one. Now the question is whether Fisher can join Maton — and whether we can have two sub-4:00 high schoolers in the same year for the first time in history.
Quick Take #4: Age does matter
Maton's performance is incredibly impressive, but it is worth pointing out that he is 19 years old — the age of a typical college freshman. For comparison, Syracuse's super frosh Justyn Knight has run 3:39.66 for 1,500 this year (equivalent to 3:57-3:58) and he is 113 days younger than Maton. Runners generally improve in college due to maturity and better coaching — Maton clearly has a bright future and will be in good hands with Andy Powell — but it does help Maton that he's a year older than most high seniors.(Editot's note: Maton isn't a year old than most high school seniors, but most people with his birthdate are college freshman).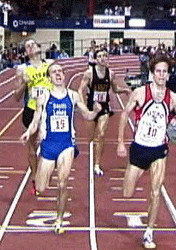 The LesRun.com singlet (far left) was there when Webb first broke 4:00.
Age when they first broke 4 in HS:
Matthew Maton – 19 and 41 days
Tim Danielson – 18 and 190 days
Lukas Verzbicas – 18 and 156 days
Marty Liquori -18 and 19 days
Alan Webb – 18 and 7 days
Jim Ryun – 17 and 38 days
Running unattached this season, Summit senior Matthew Maton will be chasing Galen Rupp's state records. (Miles Vance/Staff)
By 
Jerry Ulmer | The Oregonian/OregonLive
on April 17, 2015 7:00 AM, updated April 17, 2015 7:54 PM
It's not the way Matthew Maton expected to end his decorated high school track career.

Instead of practicing with his Summit teammates, the distance star trains by himself across town at Mountain View High School. Instead of going after Galen Rupp's state records in high school meets, he will chase them while facing college-age runners at invitationals.

But that is the new reality for Maton, a multiple state champion who is competing unattached after parting ways with Summit in a flap with the coaching staff in late March.

"It feels weird," said Maton, who will run the college invitational 1,500 meters in the Oregon Relays at Hayward Field on Friday night. "It's definitely a lot of freedom.

"It's sometimes hard to train just by yourself every day. I was training by myself with the team, but at least I saw my buddies every day. It's just a little different to motivate yourself to go out by yourself, and go crank it out and get it over with."

The University of Oregon-bound Maton, winner of four Class 5A titles in track and two in cross country, has a chance to go down as the best distance runner in state history. After taking 10 seconds off the OSAA cross country meet record, owned by Central Catholic's Rupp since 2003, he is shooting for Rupp's state marks in the 1,500 and 3,000.

Maton's personal bests of 3:49.38 and 8:18.66 are within striking distance of Rupp's times of 3:45.3 and 8:03.67 from 2004. He can't run in an OSAA race this season, but remains eligible to break records, and said that Friday's race "will be a great opportunity" to chase the 1,500 mark.

"I think I have a good shot on Friday, if I'm feeling good and the weather is right," said Maton, who ran 1:53.63 in the 800 on March 19 in his only high school meet this season to nearly match his personal best of 1:52.89. "Compared to last year at the same time, I think I'm a lot faster now."

Maton also would like to become the sixth high-school runner, and first since 2011, to break four minutes in the mile. He will get chances May 8 in the Oregon Twilight meet and June 13 in the Dream Mile in New York City, where he ran 4:03.23 to finish second last year. Rupp ran the mile in 4:01 in high school.

"I feel I could run anywhere from 4:02 to 3:58 this year," Maton said.

Maton doesn't have a fix on where he stands in the 3,000. He clocked 9:03.73 to easily win a two-mile race in the San Francisco State Distance Carnival on April 4.

"I haven't run a really fast 3K in a while," he said. "I haven't had the competition. So hopefully I'll get somebody at some race, the bigger guys, who can run a whole lot faster."

The circumstances surrounding Maton's departure from Summit are somewhat sketchy. Summit coach Dave Turnbull has said that it was Maton's decision to leave, but Maton says that he was forced out.

According to Maton, the breakup came from a situation that occurred on the Friday before spring break, the day after Maton had run the 800 at a meet in Prineville.

Maton said that the team had an optional practice that day, preceded by a 20-minute team warmup. Maton, in a pinch for time to retrieve his car from a dealership, did not participate in the warmup and practice. When he returned to the school in his car that day, he said, he ran into Turnbull in a back parking lot.

"He pulled up to me in his car and rolled down the window and he sounded very angry," Maton said. "He couldn't believe that I would do such a thing to skip a team warmup. I told him that I didn't really know what to say, I was just trying to save time. And then he told me that he would like it if I no longer represented Summit.

"So I said, 'Well, if that's what you think is best.' And he said, 'Yes,' and then he sped off. He was obviously very angry with me."

Maton said he thought it would blow over during spring break. But when he texted distance coach Jim McLatchie for a workout schedule for spring break, he did not receive a response.

According to Maton, tension had been building between him and McLatchie since his junior cross country season, when his decision to run in the Foot Locker Cross Country Championships instead of joining his teammates at the Nike Cross Nationals Northwest Regional meet met with McLatchie's disapproval.

Maton and his mother, Michelle, met with Turnbull and other school officials on the Monday after spring break to address the situation.

"They wanted me to sign a contract to come back to the team, basically for punishment," Maton said. "And I felt like I had done nothing wrong. I thought about it, I sent the email back, and I told him I'm more than willing to come back on the team, but I will not sign a contract when I feel I've done nothing wrong, and got yelled at for no reason. And then they said, 'Well, that's it, then.' I said, 'OK.'"

Turnbull declined to discuss specifics regarding Maton.

"Out of respect for Matthew, I'm not going to comment on anything that has to do with behavior, because he's a great kid," Turnbull said. "I don't think it would be fair to him to make comments. He's just made the decision to run on his own.

"I'm very confident in our decision, and I'm confident that he's going to be satisfied in his. If he wasn't, he'd have made a different decision. I think everything is going the way it should right now. The team's happy, he's happy."

Turnbull said he is looking forward to watching Maton run at the Oregon Relays.

"You can bet I'll be cheering for him," Turnbull said. "I'll probably be at the corner where I always am when he's running, and I'll be there yelling, 'Go Matthew.' We certainly want him to do well. And he could still break some amazing records."

***

Does Maton see a scenario in which he rejoins the team?

"I don't think so," Maton said. "At school, some of my teammates were looking at me funny. I asked them why they were acting so funny, and they were saying that they heard rumors that I was going to come back and just try to take a spot for district and state, just come back at the last minute. I was like, 'No way.'"

If he has a regret, though, it's that he won't be able to run in the Class 5A championships at Hayward Field.

"That's the only thing I'm kind of bummed out about," he said. "I feel like the whole year I would've been running on my own, for the most part, anyways, and even at state, I would have. But state's just kind of special to me. I guess this year I'll be able to hit bigger times, running with bigger guys, I think."

Maton said he is confident he can orchestrate his training regimen, something he has done mostly on his own in the last year, anyway. He will have his mother review it, he said, to make sure it is properly balanced.

As far as breaking from his high school team, he said it was the "best decision" for his future.

"The only sad part is I won't be able to run at state, but I guess that's the price I pay," he said. "I'll chase some fast times and hopefully do something great this year."
-- Jerry Ulmer