Can The Hot Nick Symmonds Stop The Super Hot Mohamed Aman in This Moscow Rematch?
Seven of Eight Finalists From Moscow Will Battle in Brussels
by LetsRun.com
September 4, 2013
The final Diamond League 800 of the season at Friday's Belgacom Memorial Van Damme meet in Brussels is totally loaded. It includes seven of the eight Moscow world championship finalists (with the only guy missing being seventh placer Pierre-Ambroise Bosse of France) plus 2012 Olympic bronze medallist Timothy Kitum of Kenya, who didn't make it to Moscow this year, as well as Moscow semifinalist Ferguson Cheruiyot of Kenya.
But in reality, this race is all about one thing – the clash between 2013 gold medallist Mohamed Aman and 2013 silver medallist Nick Symmonds. In David Rudisha's absence, Aman has been very, very good this year. In fact, he's been unbeatable, having picked up eight straight victories since opening the season with a loss to Rudisha in Doha.
Symmonds, to his credit, has been very good himself. Since losing to Duane Solomon at USAs, Symmonds has picked up wins in six of seven races, with his lone loss coming at Worlds to Aman.
Nick Symmonds since losing at USAs on June 23rd
1:44.86 1 Classic Edmonton 29 Jun
1:43.67 1 Sainsbury's London 26 Jul
1:43.55 2 WC Moskva 13 Aug
1:44.79 1 Skolimowska Warszawa 25 Aug
1:43.56 1 WK Zürich 29 Aug
1:49.69 1 DécaNation Valence 31 Aug
1:44.75 1 Quercia Rovereto 3 Sep
Mohamed Aman since losing his season opener to David Rudisha on May 10th
1:44.42 1 Pre Eugene OR 1 Jun
1:43.61 1 GGala Roma 6 Jun
1:44.37 1 Mohammed VI Rabat 9 Jun
1:43.78 1 GSpike Ostrava 27 Jun
1:45.18 1 Sainsbury's Birmingham 30 Jun
1:43.33 1 Athletissima Lausanne 4 Jul
1:43.31 1 WC Moskva 13 Aug
1:43.97 1 ISTAF Berlin 1 Sep
Clearly, somebody's win streak has to end. At World's, Symmonds win streak was snapped but since then he's picked up right where he left off going into Worlds.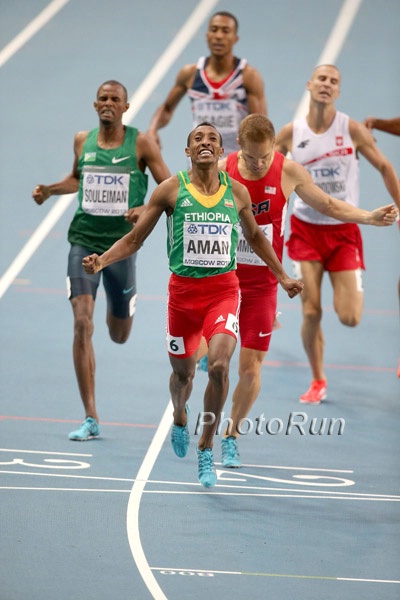 Moscow was so much fun, let's run it again in Brussels
On paper, Aman is the man to beat. Not only has he won eight straight but he's also run 1:43 in his last three races.
A victory is far from assured for Aman. Remember, the last two years, there was a man on the circuit who was far more dominant than Aman has been this year – world record holder David Rudisha. And what happened to Rudisha at the end of both of those years? Rudisha lost to hungry rival by the name of Mohamed Aman, who wanted to send a signal of, "Hey when you're training this off-season, don't forget about me."
However, since Aman won both of those late season races against Rudisha, it makes us feel that he'll be hard to beat on Friday as Aman clearly has shown he's a guy who is used to performing well all the way through the end of the year and won't suffer a post-World hangover like say Ezekiel Kemboi has this year in the men's steeplechase.
Who else?
We'd be VERY surprised if this race is won by someone not named Aman or Symmonds. If Aman is upset and it's not by Symmonds, we think it will have been done by either Duane Solomon of the US or Moscow bronze medallist Ayanleh Souleiman of Djibouti.
We're excited to watch the 20-year old Souleiman race here as this is actually his first ever major 800 on the circuit. He went into Moscow as a 1500 runner who was totally inexperienced at 800 and emerged with a medal. Coming into the year, his 800 pb was just 1:47.45 and his two 800s before Worlds were in lower-tier meets in Sweden. Since Moscow, Souleiman wrapped up the DL 1500 title on the year with a win in Stockholm and runner-up showing in Zurich, so he's in good form.
Solomon, on the other hand, seems a bit past his peak. He was no-match for Aman in Berlin on Sunday when he was .97 seconds in arrears.
Quick Take #1: We know Symmonds is running well but Aman certainly doesn't seem to be slowing down and has thrived at the end of the year in 2011 and 2012. As a result, Aman, who is still just 19, is our pick for the win.
QT #2: The world lead this year is Duane Solomon's 1:43.27, indicating no-one has broken 1:43 so far this year. If no-one dips under 1:43, it will be the first year since 2007 that no-one in the world ran a 1:42 or faster.
Last year six people did it (Rudisha, Amos, Kitum, Aman, Solomon and Symmonds). In 2011, one did it (Rudisha). Three people did it in 2010 (Rudisha, Kaki, Lalang), in 2009 (Rudisha, Yego, Mulaudzi), and in 2008 (Kaki, Borzakovskiy, Kamel). In 2007, South Africa's Mbulaeni Mulaudziwas the world leader at 1:43.74 and a guy by the name of Alan Webb was #2 in the world at 1:43.84.
QT #3: Aman has the $40,000 DL title wrapped up with 14 points. Next closest is Rudisha with eight. Nick Symmonds actually has zero DL points as many of his wins have come recently at lower-tiered meets. This one is about as big as it gets.
QT #4: The full field is as follows:
| ATHLETE | DATE OF BIRTH | NATION | PB | SB |
| --- | --- | --- | --- | --- |
| | 10.01.1994 | ETH | 1:42.53 | 1:43.31 |
| | 30.11.1989 | KEN | 1:44.38 | 1:44.38 |
| | 20.11.1994 | KEN | 1:42.53 | 1:44.45 |
| | 13.06.1987 | POL | 1:43.79 | 1:43.79 |
| | 07.01.1991 | KSA | 1:44.10 | 1:44.10 |
| | 19.02.1988 | GBR | 1:43.77 | 1:44.36 |
| | 28.12.1984 | USA | 1:42.82 | 1:43.27 |
| | 20.02.1980 | NED | 1:43.45 | 1:48.21 |
| | 03.12.1992 | DJI | 1:43.63 | 1:43.63 |
| | 30.12.1983 | USA | 1:42.95 | 1:43.55 |
QT #5: Want to re-live the 800 at Worlds? Check out our 2013 IAAF Men's 800 Moscow World Championship page.
Symmonds still on song over 800m
USA's Moscow 800m silver medallist Nick Symmonds broke away down the home straight to take the win over two laps of the track in 1:44.75. Kenya's 2012 IAAF World Junior Championships bronze medallist, and last year's Rovereto winner, Edwin Kiplagat Melly finished second in 1:45.13.
13 AUG 2013
FEATURE
MOSCOW, RUSSIA
MOHAMMED AMAN A RARE RUNNER AMONG THE ETHIOPIAN ELITE 

History, of sorts, was made when Mohammed Aman became the first Ethiopian to win a world outdoor 800m title as he kicked hard coming off the final bend to snatch the gold medal on Tuesday night (13).
The spectacular victory in Moscow's Luzhniki Stadium supersedes his 2012 World indoor 800m title and came against a terrific field. To make the result even sweeter his winning time of 1:43.31 is his fastest of the season.
Until now his countrymen have dominated 5000m, 10,000m and Marathon podiums, but Aman – a sprinter-turned-middle-distance star – has ignited a new flame of belief among the youth of his country.
Still, only 19 years of age and the youngest man to win a medal in his event, let alone a gold, Aman understands the significance of his accomplishment.
"Ethiopians are known for Marathons and for long distance and now middle distances so I am very happy," said Aman, who learned English in high school and practices by watching movies and reading.
"Anything is possible. I train in Ethiopia and I have a good Ethiopian coach (Negusse Gechamo). I train in Entoto, Sendafa and around Addis. I train with the national team. There are many national team members in Addis."
The race itself was exemplary championship running as Aman escaped from a box created by the two US runners, Duane Solomon and Nick Symmonds, and ran down the latter to steal the gold medal in the last 20 metres.
Asked if he was confident or nervous coming into the final, the native of Assela – a small town south east of Addis Ababa, which coincidentally is Haile Gebrselassie's home town – smiled.
"I don't know. I had the confidence, I won four Diamond League races and so I am very confident," he admits. "But it's the World Championships so there's a bit more stress. It's a championship, you have to be careful to win this one.
"The truth is I didn't think too much about the race last night. I slept. My coach called me and said: 'what are you doing? ' I didn't think about the race, I just focused on getting rest."
This is the man who inflicted two rare defeats upon the mighty David Rudisha, the only ones he suffered in 2011 and 2012, who is resting a knee injury, beating the Kenyan World record-holder in Zurich last year and in Milan the year before.
Unfortunately for the teenage Ethiopian, the absence of the World record-holder and Olympic champion has been noticed by some aficionados who erroneously believe that his gold medal has been somewhat devalued.
Moments after the semi-finals in Moscow, Aman responded to these comments.
"I am very sad for him because injuries are very hard on athletes," he said. "I am very sorry for him, but I don't do sport for Rudisha, though, I do it for me. I didn't say that because Rudisha is not involved, that the gold is for me. I didn't say that because there are some very strong athletes here."
Aman will have to wait until Thursday to gets his hands on his prize. Moscow 2013 organisers have scheduled his awards ceremony then because there is no evening session on Wednesday.
The impending celebration will also have to wait as he plans to wrap up his 2013 Diamond Race title in Brussels on 6 September before heading home.
"After Brussels I will go directly to see my mum," he said with a huge smile.
"She saw me run in Daegu and then London. She expects me to win and I didn't. Now it is my time so I will go directly to my mum and see my family and celebrate there. My mum, my dad and other Ethiopians, we have traditional ways to celebrate with a party."

Aman has a firm grip on the Diamond Race. Victory in Brussels would cap off one brilliant season for a history-making Ethiopian, and perhaps make it an even bigger party in Assela early next month when he finally returns home.

Paul Gains for the IAAF

SHOW ME ALL PAGES RELATED TO THIS ARTICLE
Athletes
Disciplines
Competitions
Events