9:19.93! The U.S. Squad of Matthew Centrowitz, Mike Berry, Erik Sowinski and Pat Casey Destroy the DMR World Record
The inaugural Armory Track Invitational closed with a bang as the American squad of Matthew Centrowitz (2:49.47), Mike Berry (46.40), Erik Sowinski (1:47.60) and Pat Casey (3:56.48) ran 9:19.93 to crush the old world record of 9:25.97
 Centrowitz made it clear early that the attempt was on as he took the lead on the third lap of the opening 1200 leg and came through 600 in a quick 1:23.  2:49.47, for 1200 by then Centrowitz had put 2.58 seconds on the field.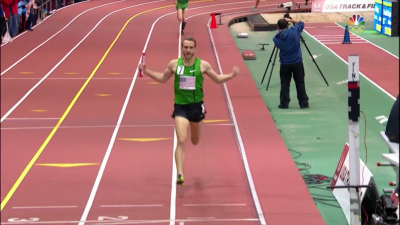 Casey exulted as he sealed off the U.S.'s world record with a 3:56.48 anchor leg
Berry (who had the fastest 400 leg by a full second) 46.40  grew the lead for Sowinski,  producing a solid 1:47.60  Casey merely had to split faster than 4:02.50 for the 1600 leg for the world record to go down.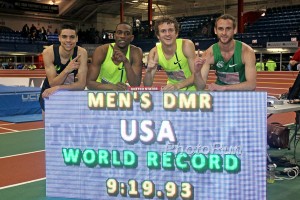 9:19.93 for Centrowitz, Berry, Sowinski and Casey (l-r)