RRW: TrackTown USA Says Goodbye to WJC's, Turns to Future Championships
July 22, 2014 to July 27, 2014
Eugene, Oregon

EUGENE, OREGON — Thirty-eight buses have begun the back-and-forth journey to airports here and in Portland, Ore., shuttling more than 1700 athletes who competed at the IAAF World Junior Championships. Fewer than 24 hours after the final gold medal was presented, TrackTown USA has begun a transformation, bidding adieu to thousands of spectators, fans, volunteers, and athletes.

Moving trucks are parked outside of historic Hayward Field, loaded with everything from television equipment to hurdles. Sidewalks, once filled with athletes sporting jackets from hundreds of countries around the globe, are now empty.

With the conclusion of these championships, TrackTown USA's President Vin Lananna breathed a sigh of relief. The former head track and field coach and assistant athletic director at the University of Oregon summed the games up as a fulfilled promise, a festive atmosphere that surpassed his expectations.

"As far as I was concerned, when we made the presentation to the [IAAF] council a couple of years ago, we told them we were going to give them an exciting, enthusiastic crowd and a community that was going to embrace these athletes and provide them with the best experience possible," Lananna told the media on Sunday. "Based on all measures that we have anecdotally, this was a grand success."

A total of 51,532 spectators filled the grandstands of Hayward Field over the course of six days, making for a festive and celebratory atmosphere that reached a crescendo on Saturday and Sunday.

Now that competition has concluded and athletes are on their way out of town, Lananna and TrackTown USA turn their attention to a pair of big events looming on the horizon: the 2016 IAAF World Indoor Championships –to be held in Portland some 120 miles north of here– and the potential opportunity to host the 2019 IAAF World Outdoor Championships.

While athletes celebrated the conclusion of the meet by taking selfies on Hayward Field's track and trading team gear with other competitors, Lananna spoke at length about what the future holds.

"These kids, I hope what they saw was what could happen on a bigger stage when they go to the senior world championships and there are 40,000 people in the stadium," he said. "The Oregonians, and in particular those spectators who came from Eugene, our Hayward Field faithful, did a great job. I have no doubt that if they want to do this in 2019, yes we can pull it off."

Lananna said he plans to meet with members of his staff today to review all aspects of the meet, hoping to learn what needs to be done better when Portland plays host to the three-day World Indoor Championships in under than two years.

"I'm sure there are some," Lananna responded when asked about what specific alterations he'd make. "Right now, standing here, I would say every national anthem that was played, every kid that walked in, every smile that was on the podium, that's what I'll choose to focus on today and maybe on Monday we can figure out what those tweaks are."

Lananna did not answer if the International Association of Athletics Federation had given any feedback on the job TrackTown USA did, simply saying that he did not want to speak for the international governing body.

Touching upon the strengths of Eugene as a host city, Lananna was impressed by the University of Oregon's ability to host athletes and provide a relaxed and comfortable living environment. Athletes could often be seen playing basketball and beach volleyball during the championships, conversing with other nations. All competitors resided in the University's dormitories, a setting that allowed them to mingle freely.

From this writer's perspective, the city of about 156,000 people proved itself as the track and field capital of North America. Lananna described the host's role as authentic.

"It's a love of the sport for track and field," he said, pausing to try and put his thoughts into words. "I think that for many years, this community has done it's share world wide to host great events. I think that if I looked at what the difference would be [between a World Junior and World Senior Championship], it would just be more people with the same enthusiasm, and same excitement, embracing the athletes that compete here."

Lananna made sure that all reporters knew TrackTown USA had not yet decided whether or not to bid for the 2019 World Championships. If they did bid and were awarded the games, it would be the first time that an IAAF World Outdoor Championships was held in the United States.

"We will make a final determination in mid-September about 2019. Our desire is there to put a bid in, but we have not officially submitted a bid and will not do that until the 25th of September," Lananna confirmed.

Portland 2016 is the next big challenge, though Lananna firmly believes it is "going to be a killer" of a meet.

"The Oregonians will embrace that and it will be fantastic," he said. "It'll be a big event. It's not just going to be a track meet. It's going to be a celebration of the sport of track and field, and I think Oregonians should be front and center in that celebration."
The Best of World Juniors
Ecuador's Angela Tenorio was disqualified for a false start in Heat 3 of the women's 100. Race replays showed no false start.
What happened? The IAAF didn't get bureaucratic but instead did the right think and let Tenorio run her heat – albeit all by herself after the other races had finished. After the 10k was over, she ran and easily advanced, ultimately winning the silver medal in the final (and a bronze in the 200).
That was the one of the best things in our mind about the whole event. Why? Because bureaucracy and delay normally rule the day with track and field decisions in the United States. Video replays have clearly shown no DQ took place in men's 3k at USAs in February and the DQ still hasn't been rectified. We hope USATF saw how much quicker the IAAF acts on things.
###
In terms of actual performances, the gold by Mary Cain was obviously incredibly rare and special for American distance fans but how about Morgan Lake? She was only person to win two individual golds in Eugene as she won the high jump and heptathlon.
Related: Messageboard discussion: Track Nerds – What was the single best absolute performance (marks wise) at world juniors? 
###
The great performance put on by Kenya needs to be mentioned as well. Do you realize they won 16 medals in the mid-d and distance events (10 events) to finish second in the medal standings? And remember, at World Juniors, countries can only enter two per event.
On the boys side, every Kenyan mid-d/distance runner who came to Eugene except for one got a medal (Fredrick Kipkosgei Kiptoo ran 13:35 and was 5th in the 5000). That's pretty remarkable. Think about it. In the 15 editions of World Juniors, a US boy has never medalled at an event above 800 meters. At World Juniors in 2014, every single Kenyan boy but one medalled.
On the girls side, seven of the 10 Kenyan mid-d/distance runners took home medals.
More: Cool stuff: After officials recognized a girl was falsely DQd in girls 100, she was allowed to run ll by herself after boys 10k and put up 2nd fastest time of meet *List of Medallists
Vin Lananna Reacts To News of Four Ethiopians Missing from World Junior Championships
July 22, 2014 to July 27, 2014
Eugene, Oregon



EUGENE, OREGON — In his press conference wrapping up the 15th edition of the IAAF World Junior Championships, TrackTown USA President Vin Lananna was pleased with the overall success achieved here at historic Hayward Field. Speaking about the Eugene community and enthusiasm that filled the stands each morning and afternoon, Lananna smiled for nearly 15 minutes, answering question after question posed by reporters.

Midway through his media session, Lananna was questioned about the report that surfaced today concerning four Ethiopian athletes who have been reported as missing. First filed by OregonLive.com's Wendy Owen, one boy and three girls from the East African country have been confirmed missing by University of Oregon officials and law enforcement agencies.

The news, which spread quickly through TrackTown USA, was on everyone's minds as today's track and field action began.

Responding to the inquiry, Lananna answered frankly after a brief moment of hesitation.

"You know, I don't really know what happened. I'm going to kick that off to the IAAF and see what they, see what the federations [have to say]. I don't really know what specifically happened. Our responsibilities as a local organizing committee is to organize the event, work with our federation –USA Track & Field– put all the pieces together, and then get them checked into their housing, have the competitions start on time, end on time, give them their medals, and get them back safely," he said. "But all the other stuff around it, I don't know anything about it."

Some eight minutes later, Lananna was asked again about the case.

"We let the authorities and IAAF handle it. I don't know how they handle a situation like that," said Lananna, the former head track and field coach and assistant athletic director at the University of Oregon. "They haven't shared anything with us. So, I don't know whether to be concerned about it."

Members of the media seeking comment from the International Association of Athletics Federations earlier today had been directed to the public authorities working on the case. According to Owen, the Federal Bureau of Investigations (FBI), City of Eugene police, and University of Oregon police are currently working on the missing persons investigation.

After Dawit Seyaum won 1500m gold on the Hayward Field oval this afternoon, she came through the media mixed zone with Ethiopian team doctor and translator Gemechis Mamo, as well as fellow teammate and silver medalist Gudaf Tsegay.

When asked about the four missing athletes, Mamo looked straight at members of the media and said a firm "No comment on that side."

Following a few race specific questions, Race Results Weekly asked Seyaum and Tsegay if they were worried or sad about their fellow countryman and women. Not allowing the pair of athletes to speak, Mamo shook his head signalling he would not answer the question.

At these championships, Ethiopia won three gold medals and three silver medals, tying for third with Great Britain and Russia for total medals won.

Spanning six days, organizers reported that 51,523 spectators watched the IAAF World Junior Championship
The four Ethiopian runners whodisappeared from the IAAF Junior World Championships in Eugene this past weekend defected from their home country to avoid returning to widespread civil unrest there, police confirmed in a report released late Friday.
The report, provided by police in Federal Way, Washington, describes an interview with Zeyituna Mohammed, an 18-year-old woman runner on the Ethiopian national team. She told police that she and the other athletes decided to stay in the U.S. because they were too afraid to return to Ethiopia.
The report confirms for the first time what many close to the case, including the team's coaches, had suspected — that the athletes' disappearance was part of a plan to defect from Ethiopia.
Mohammed told authories she may seek asylum in the U.S., but she is not certain of her plans. It remains unclear whether the other three athletes, whom police  found in Beaverton earlier this week, are planning to do so.
Federal Way police agreed to help University of Oregon police with the investigation when authorities learned Mohammed was staying with an acquaintance there.
On Wednesday, five days after the athletes were first reported missing, Federal Way police found Mohammed staying at the home of two Ethiopian natives, one of whom came from the same village Mohammed is from.
Through an interpreter, Mohammed described how the group left the University of Oregon campus unnoticed with help from an another runner on the team, who helped them arrange rides with Ethiopian connections in the area. The group was given a ride to Portland, and then Mohammed was picked up by another driver and taken to Federal Way.
Police found the other three runners — Amanuel Abebe Atibeha, a 17-year-old boy, and Dureti Edao and Meaza Kebede, 18-year-old women — in Beaverton on Monday.
Mohammed signed a contract with Nike and Edao with Adidas on July 25, just hours before the group disappeared, their coaches told University of Oregon police.
Edao told the coaches she needed to send a copy of her passport to the Adidas contract manager to finalize the agreement, according a report from UO police released this week. Coaches gave her a key to the room where the team's passports were kept.
Other members of the Ethiopian team later saw the four running with their bags and then hop into a white sedan, according to the UO police report. None of the other team members was able to identify the driver.
Coaches later said the four athletes' passports were missing. Police found the women athletes' rooms, in a UO dormitory, emptied of belongings.
Nike and Adidas have not provided details about the athletes' contracts. 
In a statement Monday, university police said the athletes are permitted to stay in the U.S. under the terms of their visas. No time limit was given. Officials in the U.S. Department of Homeland Security's Citizenship and Immigration Services office declined to provide any further information.
Hosting World Juniors Is A Big Win For Vin Lananna and Oregon
July 22, 2014 to July 27, 2014
Eugene, Oregon

By David Monti, @d9monti
(c) 2014 Race Results Weekly, all rights reserved
EUGENE, OREGON (22-Jul) — The last time an IAAF World Championships was held in the United States, Boyz II Men and Sir Mix-a-Lot topped the Billboard charts, Shaquille O'Neal was the NBA rookie of the year, and "Home Alone 2″ had just been released in theaters.
Those championships, the 1992 IAAF World Cross Country Championships, were held in Boston's Franklin Park, where American distance running legend Lynn Jennings had won her third consecutive title.
Since then, IAAF executives have lamented that no global championships –with the exception of the 1996 Olympics, which is not an IAAF meet– have been held in the country which produces the most world championships medalists.  That all changed when a bid for the 2014 IAAF World Junior Championships presented by TrackTown USA was accepted by the IAAF.  Those championships,  open here today at historic Hayward Field at the University of Oregon, America's #1 track temple.
"I was not sure if during my tenure if I would see a championships in the United States," IAAF president Lamine Diack told reporters here yesterday.  The 81 year-old athletics executive from Senegal is serving in his final term as head of the IAAF.
The man responsible for bringing these championships to Oregon is former University of Oregon assistant athletic director and athletics coach, Vin Lananna, who heads-up the local organizing committee through his TrackTown USA organization.  Lananna told reporters yesterday that hosting the World Junior Championships "made the most sense" based on the size of Hayward Field and the university setting in this city of about 156,000 people.
"Thanks for your leadership in bringing these championships to Oregon," Lananna told Diack at a press conference here yesterday.  He continued: "(We have) the most passionate and knowledgeable fans in America."
Lananna's street cred was a big factor in Eugene's winning bid.  Diack knew Lananna as an excellent university coach at both Stanford and Oregon and one of the biggest boosters of the sport in the United States.  He also knew of the repeated successes of the Prefontaine Classic Diamond League meeting, and USA, NCAA and Olympic Trials meets which have also been held at Hayward.  When Lananna spoke of Eugene's interest, Diack listened.
"Vin is a man from track and field," Diack said.  He added, "We were very open to a bid.  We knew the man."
These championships, which feature 970 young men and 710 young women from over 200 countries, will be "a stepping stone for younger athletes," Diack asserted.  He also said that he expected the level of the organization for these championships to be top notch.
"We promised them we would deliver a heck of a championships," Lananna said adding, "That's a lot of pressure, President Diack."
Mary Cain Wins Women's 3000 – The U.S.'s First-Ever Distance Medal at World Juniors
July 22, 2014 to July 27, 2014
Eugene, Oregon

By LetsRun.com
July 24, 2014
The drought is over.
In the 28-year history of the IAAF World Junior Track and Field Championships, the United States had never won a medal in a race longer than 800 meters. Mary Cain changed that on Thursday night at Hayward Field in Eugene, Ore., claiming the women's 3,000 meter title after kicking away from Kenyans Lilian Rengeruk and Valentina Mateiko in the final 200 to win in 8:58.48 after a 62-high last lap. The United States finally has a distance medal, and it is gold. We recap the race and provide results and quick takes below.
The Race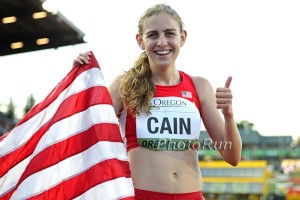 Mary Cain Celebrates Gold (click for photo gallery)
This one went off at an honest, but not blazing, pace as the field passed 1k in 3:03.84 (9:11 pace). At 1200 meters, a pack of eight women broke from the field, led by World Youth champ Rengeruk (whose 8:53 PR led the field coming in). Behind her, Mateiko, Ethiopia's Etagegn Woldu, Eritrea's Weini Kelati, Japan's Nozomi Musembi Takamatsu, Cain, Australia's Jessica Hull and Turkey's Emine Tuna all ran closely together as the field passed 1600 in 4:54.
The pace remained the same through 2k (reached in 6:07.39) and with 800 to go, all eight women were still there, with Cain in fourth but boxed in behind the two Kenyans and Woldu. The race got going at 2400 meters as Kelati and Hull dropped off: it was down to six.
At the bell, Cain was still boxed in, with Rengeruk in front on the inside and Mateiko and Woldu flanking her to her right. Takamatsu was a stride behind Cain with Tuna beginning to drop off.
As the final lap began, Cain started to probe for room but could not find any space and had to remain on the inside. As Woldu went wide on the first turn to try and pass the Kenyans, Cain was able to move up on the inside into third. Cain continued to ride the rail on the back-stretch and moved by Mateiko into second with just over 200 to go, but all five women were still in it.
With just under 200 to go (2400 to 2800 was run in 68.66), Cain accelerated in an attempt to pass Rengeruk on the inside into first but, seeing that there was not enough room, had to slow down, in the process bumping into Mateiko, who was coming up on Cain's right. Those two ran together for a few steps before Cain finally found the space to get around Rengeruk, seizing the lead with 175 to go.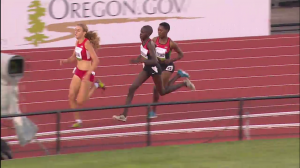 Cain finally went to the front with 175 to go
Immediately, Cain, with her 1:59 800 speed, shifted into a gear that the Kenyans could not match. She had five meters on them at the top of the home stretch and her gap only widened as the delirious Hayward Field crowd roared her on to victory.
"The last 50 meters I just felt so good. I know you're not really supposed to look up at the screen, but I still was looking up and was like, 'Oh my gosh I'm in the lead," said Cain after the race, according to Chris Lotsbom, re-living the moment with an American flag and a Twix candy bar in her hands. "There was nowhere else that they would have been that loud for me. It was surreal."
Her last lap of just under 63 seconds gave her a time of 8:58.48, barely missing Ceci St. Geme's U.S. junior record of 8:57.27, a record Cain clearly could smash.
"Most World Championships races are slow in the beginning, especially in the longer distances. So I was mentally, physically prepared for that. I knew there'd be some surges in there, some fartleks," said Cain according to Lotsbom. "With that being said, if it was going to go 8:40 I was going to go with them."
Not getting the record is just an afterthought for Cain; her only goal here was the gold medal an accomplishment she was able to savor in a long victory lap with fellow American Stephanie Jenks (who was last in 9:31.47). The crowd clearly loved Cain — and not just the Americans. As she jogged around the track doling out hundreds of high fives and pausing for several selfies, she received warm receptions from the Canadian and Kenyan teams who sat watching in the stands.
Cain's coach, Alberto Salazar, was thrilled with the victory.