Nick Symmonds Explains Why He Won't Sign USATF's Contract And How He Was "Bullied and Threatened" At World Indoors For Not Wearing USA Gear
What is an "official" USATF team function? The answer to that question could determine whether world 800m silver medallist Nick Symmonds runs the World Championships which start two weeks from today in Beijing.
Symmonds has said he won't sign the standard document that USATF has athletes sign when they compete for Team USA. If he does not sign the document by Sunday, USATF spokesperson Jill Geer told Jeré Longman of the NY Timesthat Symmonds will not be named to the Worlds team.
The document, which is at the bottom of this article, says athletes must conduct themselves appropriately and wear the "designated Team Uniforms" for all "official Team functions." The relevant section on uniforms says:
"C. I will dress appropriately and respectfully for all "official" Team functions, wearing the designated Team uniforms provided by USATF. I understand that USATF's sponsor contract for uniforms depends upon athletes wearing the uniform and using the uniform items at competitions, award ceremonies, "official" Team press conferences, and other "official" Team functions, and that I shall not participate in any of these activities with a logo of any competitor of USATF's sponsor affixed to me in any manner whatsoever."
The problem for Symmonds is that USATF does not define what an official team function is. Big deal you say, reasonable people will work this out?
Not so fast. USATF's ambiguity, coupled with their actions towards Symmonds at World Indoors, and a letter they sent all Team USA members this year telling them to "pack ONLY Team USA, Nike or non-branded apparel" gives the impression to Symmonds and us at LetsRun.com, that USATF thinks it can control what an athlete wears during his or her entire time in Beijing. For example, when they are eating in the hotel. That is absurd.
"In 2014 during the IAAF World Indoor Championships in Sopot, Poland, I was bullied and threatened by USATF employees every day for wearing Brooks gear."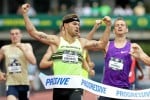 Symmonds said it well in an email to LetsRun.com: "The heart of the matter is that USATF never bothers to define what an 'official' team event is. This poorly worded, ambiguously written document, coupled with the letter that I was sent telling me to 'pack ONLY Team USA, Nike or non-branded apparel' leads me to believe that USATF thinks every minute from the moment I leave my home is an official Team USA event."
Symmonds added, "Furthermore, history has shown that USATF feels every minute away from home is an official team event. In 2014 during the IAAF World Indoor Championships in Sopot, Poland I was bullied and threatened by USATF employees every day for wearing Brooks gear. I know the way USATF acts, their behavior is shady, wrong, and it stops now."
We asked Symmonds for specific instances of bullying and he said he did not see the point of pointing the finger at certain individuals, but that, "Several different USATF employees bothered me in Sopot. There were lots of witnesses. Jeré Longman of the NY Times wrote Symmonds told him he was told to remove Brooks gear while having coffee at the team USA hotel in Poland.
USATF has no business dictating to Nick Symmonds what he can wear in his personal time at the team hotel in Beijing. They have no business telling athletes not to pack any branded apparel on their trip to China. It is so paternalistic that it is insulting. Do you think the NBA tells LeBron James he can't pack any Nike gear when he goes to the NBA Finals?
Nick Symmonds is a professional athlete, not an indentured servant. USATF needs to treat him and all of Team USA like professionals and outline when they are expected to wear Team USA gear.
Whenever Symmonds or other team members have free time that is not an official Team USA event, they should be allowed to wear other apparel brands, such as Brooks. There is almost no commercial value to Nike in having Symmonds wearing the Nike swoosh while he gets a coffee in the team hotel.
We reached out to Jill Geer for clarification on what USATF thought was a team event and she wrote back, "Given that Nick has indicated this may enter a legal dispute it would be inappropriate to discuss technical points of these matters."
A much simpler solution would be for USATF to clarify when it expects athletes to wear Nike gear.
Two Documents Below:
Agreement USATF Wants Nick to Sign: