Bitter disappointment is not the normal post-race emotion when an athlete breaks an area record, but that's what Evan Jager felt when he crossed the finish line at the end of the 3000m steeplechase at the IAAF Diamond League meeting in Paris on Saturday night.
Jager finished second behind Jairus Birech's word-leading 7:58.83 in 8:00.45, smashing his own US and North American records by more than four seconds. For Birech, the 2014 Diamond Race winner, it was a third victory of the 2015 season while Jager clinched his first Diamond Race points of the year.
Plenty of reason for celebration, then, for the pony-tailed US runner. Or so you might think, but as Birech fell to his knees to give thanks for his win, Jager hung his head over a trackside barrier, utterly dejected.
It had been the run of his life, and a superb record. And finishing second to a Kenyan in any steeplechase is no disgrace. But Jager knew he was desperately close to achieving so much more.
But for a moment's loss of concentration and a 91.4cm-high piece of wood, Jager would have beaten Birech by a healthy margin and almost certainly would have become the first athlete from outside Kenya, Morocco or Qatar to run faster than eight minutes.
Unfortunately for Jager, that piece of wood was the final barrier, set just 50 metres from the line. Having comprehensively outkicked Birech over the final 600 metres of the race, building up a 30-metre lead with 200 metres to go, all Jager had to do was clear it to secure a thrilling win and his own small place in athletics history.
But just when he needed to hold his form his tired legs failed him and he clipped the top of the wood, toppled forwards and fell flat on the track, allowing the fast-finishing Birech to streak past, delighted to accept such an unexpected gift.
"The stupid mistake cost me the sub-eight minutes, one of my big goals," rued Jager afterwards. "I think I would have been able to run about 7:56 if I hadn't fallen."
A few hours later, the 26-year-old from Portland, Oregon, stood outside the dining hall in the Meeting Areva's headquarters hotel, still kicking himself at missing such a golden opportunity.
"I just couldn't believe how fast I was running," he said. "I saw the clock said 7:41 with about 100m to go and I thought, 'I'm going to run an amazing time here.'
"The last water jump was tough, so I knew I was tired, but it was a stupid error. I'm still not too sure what happened. I think I just caught a tiny bit of my toe on the top of the barrier.
"I got really excited thinking I could break eight, so it is a let-down. But it happened, what can I do?"
Afterwards, Jager fended off the congratulations of his fellow athletes, Birech among them, as NR and AR flashed up next to his name on the giant screen.
But later, after a few hours' reflection, and a torturous period in doping control watching repeats of his fall, Jager could at least admit to being "extremely happy" with the way he had run and quietly pleased that he'd given the Kenyans such a thrilling wake-up call.
"Of course, I'm happy I made the Kenyans worried," he said. "I trained for that. I know there will be other chances. I think I gave them a shock. I knew I had him."
Despite being at world record pace up to 2000m, Jager admitted he had no idea of the race splits until the final lap. Indeed, he hadn't event set off with the record in mind. "I was just running for the win," he said.
That may have eluded him in the cruellest way, but Jager now knows he will be a genuine contender at the IAAF World Championships in Beijing this August. What's more, the Kenyans know it too.
"Today, I proved I can compete for the top position at the World Championships," he said. "After I crossed the line they were all congratulating me, but I was pretty annoyed at the time so I was yelling at myself.
"I think they were genuinely happy for me, but I'm sure they're now thinking about what's going to happen at the Worlds."
Not that Jager is likely to get carried away. He's far too level headed for that. And he knows that breaking the Kenyan stranglehold over global titles would be a historic achievement of some magnitude.
After all, no non-Kenyan athlete has won the Olympic title since Poland's Bronislaw Malinowski at the 1980 Moscow Games, and only world record-holder Said Saeed Shaheen, a former Kenyan himself competing for Qatar, has won a world title for a non-Kenyan country since Italy's Francesco Panetta in Rome 1987.
What's more, there has only ever been one US Olympic steeplechase champion in history, and that was some 63 years ago when Horace Ashenfelter took gold back in Helsinki 1952 running a world record of 8:45.4.
"I think I will run for a medal and if there happens to be a good opportunity for me to actually go for gold, I will do that," said Jager. "But I don't want to go in thinking of gold and race for gold, then blow up and possibly not win a medal.
"It's been quite a while since an American won a global title. It would be really cool. It would be awesome. That's always been my goal in whatever event I've run in. I've always wanted to win a medal at the World Champs and the Olympics."
Ironically, given his Paris trip, Jager moved up to the steeplechase from the 1500m partly because he thought he'd be good at clearing the barriers, that excelling at the technical aspects of the event would help make up for his relative lack of finishing speed which hampered his progress at the shorter event.
"I do really love it. I like having to focus on the hurdling and the water jumping technique," he said. "I like working on that kind of stuff, the supplementary stuff outside of just the running.
"I like figuring out how to race in the steeple as well, as opposed to just the flat events. There's always something extra there for me. It's been fun trying to figure that out. Ideally, I like to work on my hurdling technique at least once a week."
The switch certainly seems to have worked. Having failed to make it as a 1500m runner, Jager quickly adapted to the new event, first breaking the North American record in 2012 in only his fifth outing over the barriers. He lowered it again in Brussels last summer to 8:04.17 before his breakthrough last night in Paris St Denis.
Now Jager flies back to Portland to prepare for Beijing with his coaches, Jerry Schumacher and Pascal Dobert, knowing he has history within reach.
"I'll go back to Portland briefly, then it will be straight back to Park City, Utah, to work at altitude," he said. "It will be more of the same stuff. Maybe we'll pick up the pace on work-outs just a tad, but probably we'll stay consistent with what we've been doing the whole year.
"There's no reason to change much, just squeeze out a little bit more fitness between now and the World Champs."
A "little bit more" that could make all the difference, as Evan Jager now knows, all too well.
Jager now owns seven of the top 10 U.S. steeplechase performances all-time and won the USATF title in the event just a week ago.
 St: 1. Jairus Birech (Ken) 7:58.83 (WL); 2. Evan Jager (US) 8:00.45 AR (old AR 8:04.71 Jager [Nik] '14) (13, x W; 3, 4 non-Kenyan born) (fell over last barrier);
 3. Conseslus Kipruto (Ken) 8:09.90; 4. Brimin Kipruto (Ken) 8:10.09; 5. Clement Kemboi (Ken) 8:12.68 PR; 6. Paul Koech (Ken) 8:14.65; 7. Dan Huling (US) 8:15.21; 8. Hillary Yego (Ken) 8:16.55; 9. Donn Cabral (US) 8:17.20; 10. Ilgizar Safiulin (Rus) 8:18.49 PR; 11. Ezekiel Kemboi (Ken) 8:19.49; 12. Yoann Kowal (Fra) 8:22.17; 13. Sebastián Martos (Spa) 8:22.38; 14. Roberto Alaiz (Spa) 8:29.69; 15. Mateusz Demczyszak (Pol) 8:31.82;… rabbits—Haron Lagat (Ken) (2:37.76), Lawrence Kembo
despite fall Jager set steeple AR
On the Fourth of July in Paris, Evan Jager did something perfect. The 26-year-old American lined up for a 3,000-meter steeplechase against nearly all of the best steeplers in the world, and over the first five minutes of the race, he joined Kenyan stud Jairus Birech in running away from the entire field. There was nothing insanely remarkable about that—Jager and Birech were running a pace that both had hit before, and they had gone 1-2 (both times with Birech first) in two prior high-profile meets. With 900 meters to go, though, Jager dropped the hammer. 

His cranking of the pace was evident immediately over the hurdles: Birech couldn't get over the barriers smoothly while running that fast that late in the race, while getting over the 36-inch hurdles presented no problem for Jager.
Until the very last one.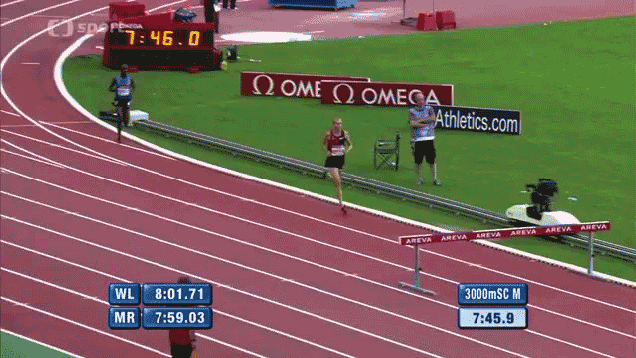 With one hurdle and a hundred meters left in a race that takes 35 hurdles and 3000 meters, Jager had it in the bag. He was surely going to win in a field tougher than one he'd see in a World or Olympic final, surely going to smash his own American record, and surely going to become the first non-African to break eight minutes. And then ...

I've watched the replay dozens of times, and I can never see exactly where Jager makes contact with the barrier. He said in a post-race interview that a toe on his trail leg caught the hurdle, and sure, he absolutely would not have fallen otherwise. But this is not one for the archives of steeple fails, which is what makes it so perfect. Jager ate shit oh-so-briefly—and not really even on a hurdle—and then got up immediately after and sprinted to a new American record in the event, running away from a field that included the last four world champions and last three Olympic gold medalists. His time of 8:00.45 shaved four seconds off of his old national standard.
This is a heartwarming tale of the triumph of the human spirit, I guess; it is also a ludicrous and wonderful moment. Ha ha, this mzungu thinks he can just run away from the Kenyans? Watch him run out of gas at the most humiliating time possible!
"Mzungu" is a Bantu word for "white person," and on the rare occasions that a white has shown that he can consistently hang with the East Africans in international distance races, Kenyans have been known to use it as an affectionate appellation. Perhaps the most famous mzungu to date was Craig "Balls" Mottram of Australia, who was such an anomaly last decade that Nike produced a documentary about him titled The Big Mazungo.
After Saturday's race, it was clear that Jager is the biggest mzungu now. Kenyan pacemaker Haron Lagat briefly congratulated Birech before running over to console Jager, and in post-race interviews, Birech made it clear that he knows that Jager is a serious threat to win a gold medal at the world championships this summer.
That medal would be historic because Kenyan men have dominated the event about as much as one country can dominate one athletic discipline. Kenya didn't go to the Olympics in 1976 or 1980, but outside of those years, a man born in Kenya has won every single Olympic gold medal in the event since 1968. They've been a hair less dominant at the world championships, where they're only undefeated since 1991. This is why Jager showing he can really do this is such a big deal.
Listen to British commentator Tim Hutchings throw away any pretense of objectivity as he gleefully narrates Jager's surprising lead:
Cultural dynamics in global sports are very different than those in domestic ones, and if you're used to the fault lines of American leagues, it may seem slightly off-putting to hear Hutchings joyously scream, "Enjoy this if you like to see someone get among the East Africans, the Kenyans in particular!"
That's a lot of the fun of international sports, though—the way it crosses everything up and makes what might seem ridiculous in some other context perfectly normal. When Evan Jager lines up against four Kenyans and the rest of the world seeking a global title in August, three letters will suffice: U-S-A.