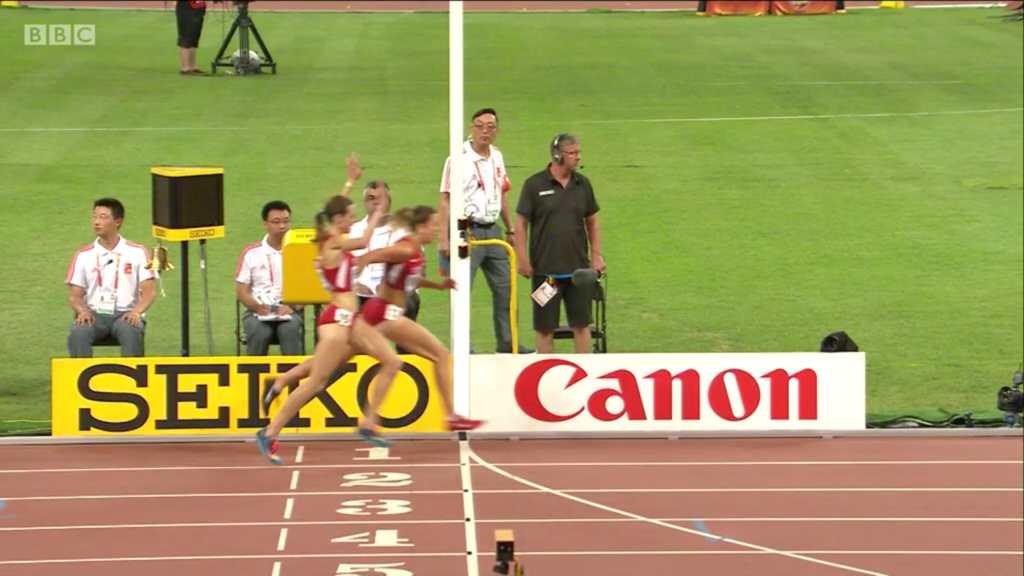 BEIJING — It's the first rule of track and field: run through the line. Molly Huddle But tonight, she let up and celebrated a stride before crossing the finish line in the women's 10,000-meter final at the 2015 IAAF World Championships, and it cost her the bronze medal as the unheralded Emily Infeld swooped in to earn one of the most unlikely medals in U.S. track and field history.
Kenya's Vivian Cheruiyot won the race at the Bird's Nest, using a 60-second final lap to sprint away from Ethiopia's Gelete Burka in the final 50 meters in a tactical affair, winning by .46 of a second in 31:41.31, the third-slowest winning time in race history. The victory showed that Cheruiyot, who already owned three world titles (5k in '09, 5k/10k in '11) is very much back following the birth of her son in October 2013. Now the stage is set for a battle royale in Rio between Cheruiyot and Ethiopian all-timers Tirunesh Dibaba and Meseret Defar, neither of whom are competing in Beijing.
 The joy on Infeld's face in the aftermath was matched in intensity only by the dejection on Huddle's. It is not something that either will ever forget.
"I blew it, pretty much," Huddle said. "That kind of race doesn't come around a lot and the Olympics are usually really fast from the gun, so, I'm old, so I'm probably not going to get another one of those. It's frustrating."  Though it will come as small consolation to Huddle, she was part of the greatest collective American 10,000 performance in history. With Infeld, Huddle and Shalane Flanagan (6th, 31:46.23), the U.S. placed all three of its runners in the top six places. If you were to score it, cross-country-style, the U.S. would have tallied 13 points — better than Kenya (14) andEthiopia (18).