SENIOR MAGGIE SCHMAEDICK WAS OREGON'S FIFTH FINISHER SATURDAY, IN 64TH PLACE, BUT HER ALL-OUT EFFORT TO THE FINISH LINE MADE THE DUCKS CHAMPIONS OVER MICHIGAN BY ONE POINT.
TERRE HAUTE, Ind. —
 Nearly 40 minutes elapsed after the finish before results were finalized Saturday.
So there was certainly no way, while the NCAA women's cross country championship actually was being run, that anyone had any idea how close the team race would end up.
All the Oregon women could do was burn every last bit of oxygen in their lungs. Stomach every anguished scream of pain from their legs. Track down every opposing runner they could, without regard for the logos on their jerseys.
Two red flags flew at intervals along the home stretch of the LaVern Gibson Championship Course. When the Ducks saw them, that was their cue to go into what they call a "kamikaze sprint."
Limbs flail. Faces contort. Cadence is abandoned. That was 
Maggie Schmaedick
's state when the senior — the senior from Eugene — sprinted for the finish line Saturday, a runner in dark blue to her right.
The two were racing for the right to place 64th, nobody's goal entering the race. Until, of course, Schmaedick edged out the runner in blue by one-tenth of a second. And found out the runner was from Michigan. And realized, some time later, that the two had been racing with nothing less than the NCAA team title on the line.
Schmaedick's frantic final kick was the difference in Oregon's one-point win over the Wolverines on Saturday. The Ducks had three all-Americans, too, but no moment better encapsulated the never-say-die spirit that propelled the UO women to their fourth NCAA cross country title.
"What we've talked about all season is, you can't judge the race before it's over," said UO coach 
Maurica Powell
, whose No. 12 Ducks became the lowest-ranked team ever to win the title. "All you can do is control your attitude and control your effort — and control how many people you can pass. Because you can't count the score as you're racing; there's no way to know. She was just trying to beat the next kid."
Schmaedick's race Saturday was a fitting end to the Ducks' fall season. Oregon came into nationals ranked 12th in the country. That reflected their fourth-place finish in unseasonably warm conditions at the Pac-12 championships, and another fourth-place showing at West Regionals, where top runner 
Katie Rainsberger
 competed despite an illness.
Through it all, Powell's team stayed focused on the ultimate finish line: the one at the end of Saturday's six-kilometer race.
They fought to the very last step: the one that propelled Schmaedick past Michigan's Jaimie Phelan.
Schmaedick crossed in 20:38.1. Phelan was timed in 20:38.2.
"There's no glory in fighting for 64th or 65th," Schmaedick said later. "I don't really care what that number is. But it mattered at the end of the day. I'm just so happy I could help out."
Rainsberger led Oregon's five scorers by finishing fourth, a brilliant NCAA championships debut by the freshman, and a welcome bounceback from her labored effort at regionals. She was shadowed for much of the race by junior 
Alli Cash
, whose season debut was delayed by injury, but who got back into peak condition at exactly the right time.
Next across for the Ducks was senior 
Samantha Nadel
, a transfer from Georgetown who made a substantial move through the field over the final 3k and finished eight spots ahead of Michigan's No. 3 runner. And then, another duo that ran together Saturday, seniors 
Ashley Maton
 and Schmaedick.
The LaVern Gibson Championship Course meanders over and around a berm of turf near the Terre Haute city limits. A number of 'S' curves provide coaches and fans ample opportunity to run from turn to turn, following the lead group like a gallery on a golf course. Powell took every opportunity she could to connect with each of her runners, communicating where they and their teammates stood in the field, and adjusting their race plans accordingly.
At 2,000 meters, Michigan led, with Oregon second. Pre-race favorite Colorado, known as strong closers, lurked outside the top three. The Ducks' optimism was growing.
"I knew Ashley was having a good race," Schmaedick said of Maton, who finished one second in front of her. "You could just tell by her body language. And I could tell by the body language of the coaches — Maurica and (her husband, UO men's coach) Andy sprinting around frantically — I just had a good feeling. I didn't know what the team score was going to be, but I knew it was going to be a good day."
The Ducks had come into the race believing they were underrated at No. 12. Given the resiliency they'd shown all year, combined with the fact they finally had a full complement of runners healthy and near peak condition, 
Maurica Powell
 thought a podium finish was possible. But even she wasn't anticipating a team title.
That began to change the next time splits were announced Saturday, after another 2,000 meters.
"At that point they were in such good position," Powell said. "I was shocked to see they still looked so in control at 4k. It was like, 'Oh my gosh — I think they might pull this off.'"
It ended up coming down literally to their final stride. Fueled by positive energy drawn from her teammates and coaches, Schmaedick kicked past the Michigan runner at the finish. Adding to her elation was the fact that Schmaedick — a graduate of Sheldon High in Eugene — had helped deliver an NCAA title to her hometown team.
"I've been an Oregon fan all my life," she said. "Even when I was really little and running wasn't really on my radar, it was a dream to come to this school and wear the 'O' on my chest. Having that come to reality, and actually matter, for a team that means so much to me, I have no words. It's just incredible."
Once the race was finished, an agonizing wait for final standings ensued. There have been past instances of incorrect results being announced due to timing problems, and the NCAA didn't want a repeat of that.
Powell huddled her team at the finish to congratulate them on their effort. She was trying to tally results in her head; without knowing how many runners competing as individuals needed to be ignored to calculate team scores, that was next to impossible.
ll she knew was that the Ducks had exceeded even her own expectations. "I don't know, guys," Powell told her runners. "It's close. You might have stolen the whole thing."
About a half-hour later, it became official. Oregon had edged Michigan for the NCAA title by a single point. An inspired effort personified by Schmaedick's "kamikaze sprint" had given the Ducks their fourth women's cross country title.
"It's a little lucky to come up with a one-point victory," Powell said. "But they created their own luck today."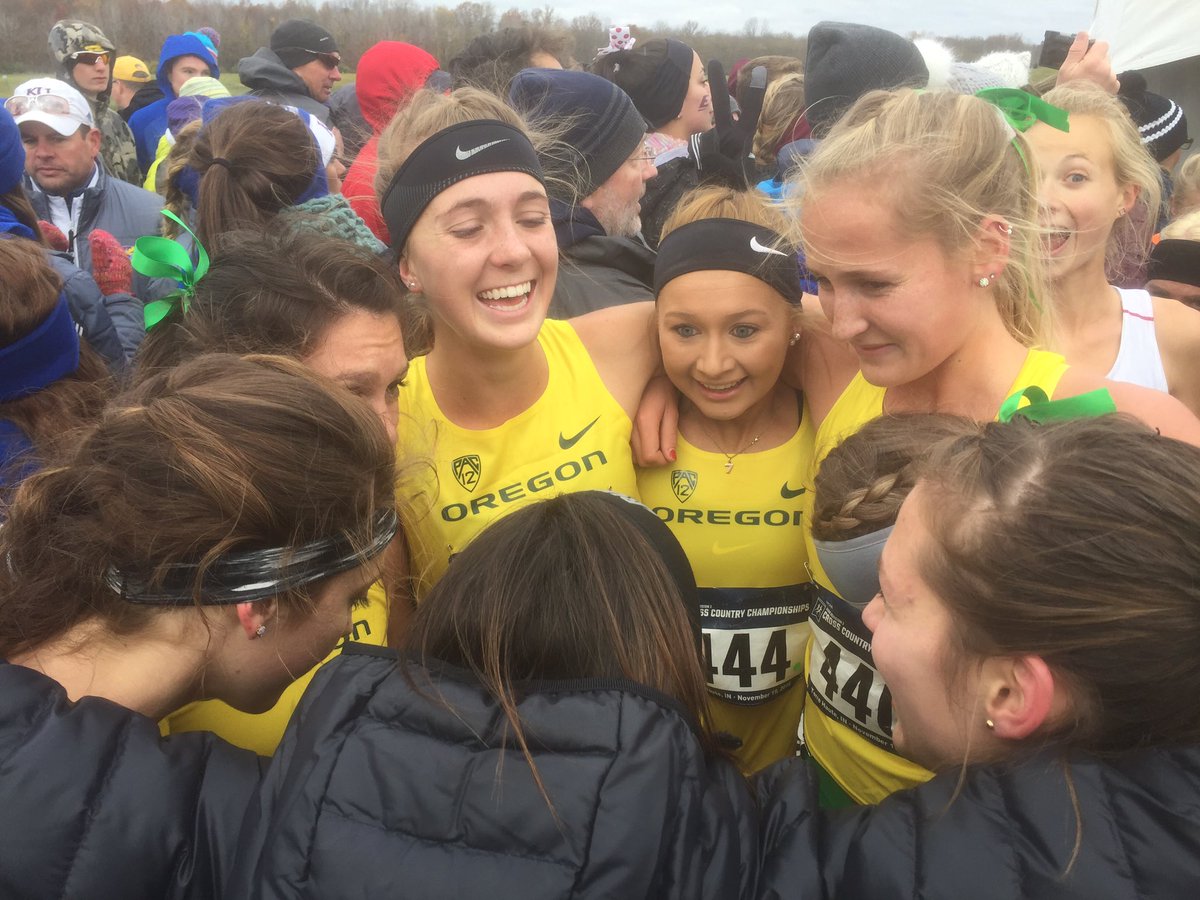 THE OREGON WOMEN WON THEIR FOURTH NCAA CROSS COUNTRY TITLE SATURDAY, WHILE THREE-TIME CHAMP EDWARD CHESEREK WAS THIRD IN HIS BID FOR HISTORY.
Story Links
TERRE HAUTE, Ind. —
 The Oregon cross country program captured a national title Saturday at the NCAA championships, though not the one most were expecting. 
Maurica Powell
's UO women captured the team title by the barest of margins, a single point over Michigan, while three-time men's champion 
Edward Cheserek
 finished third as the UO men took ninth as a team.
Women Crowned National Champs:
 Freshman 
Katie Rainsberger
 finished fourth for the Ducks over the six-kilometer LaVern Gibson Championship Course, in 19:51.1, leading three all-American finishers from Oregon. Junior 
Alli Cash
 was 14th in 20:08.2, and 
Samantha Nadel
 took 21st in 20:14.0.
By the time seniors 
Ashley Maton
 (61st, 20:37.0) and 
Maggie Schmaedick
 (64th, 20:38.1) crossed the finish line, the Ducks knew they'd run exceptionally well. But the projected champs from Colorado also had a solid day, and Michigan was led across the line by the second-place individual, senior Erin Finn.
After an agonizing wait that included reviewing race video for confirmation, the Ducks were announced as national champs with 125 team points, one fewer than the Wolverines. Only then did the significance of Schmaedick's finish — one place and one-tenth of a second ahead of Michigan's fifth finisher — begin to resonate.
Colorado was third with 134 points. The Oregon women won their fourth NCAA cross country title, having previously taken first in 1983, 1987, 2012.
Powell said the Ducks' pacing and placing through 2k led her to think they had a shot to win. "It was like, they're either going to go big or go home," she said. "And they held on."
Cheserek Settles For Third
: Cheserek's bid to become the only runner with four NCAA individual titles, and for a record 16th title across track and cross country, ended over the final stretch of Saturday's 10k race when he couldn't stick with eventual champ Patrick Tiernan of Villanova and runner-up Justyn Knight of Syracuse.
Still arguably the most decorated distance runner in NCAA history, Cheserek crossed in 29:48.0. "It's kind of disappointing, because this is my last year; it was a good race and everybody was tough out there," Cheserek said. "My hamstring was a little bit tight, but I was like, I'm going to try my best for my teammates."
Sophomore 
Matthew Maton
 also collected all-America honors, finishing 29th in 30:16.0. The Ducks also got scoring efforts from sophomore 
Tanner Anderson
 (68th, 30:39.9), junior 
Sam Prakel
 (104th, 30:53.6) and junior 
Travis Neuman
 (151st, 31:14.9).
Notable
: The 12th-ranked UO women became the lowest-ranked team to win an NCAA title. The previous record was set when No. 4 Georgetown won in 2011. … Rainsberger's fourth-place finish was highest-ever by a UO freshman. … The men finished in the top 10 for the fourth straight year.