06 AUG 2017 
REPORT
LONDON, UK
BOWIE'S DRAMATIC DIP CLINCHES FIRST US 100M DOUBLE SINCE 2005 – DAY THREE WRAP – IAAF WORLD CHAMPIONSHIPS LONDON 2017
Another night of high drama in the sold-out London Stadium; another torn-up 100m script.
Once again, as in the men's final on Saturday, there was surprise joy for the United States and disappointment for Jamaica when it came to the women's final at the climax of Sunday's evening session on day three of the IAAF World Championships London 2017.
If anything, Elaine Thompson lined up as an ever stronger favourite than Usain Bolt but the Olympic 100m and 200m champion got off to a sluggish start of Boltish proportions and was never in the medal mix – unlike her celebrated compatriot, who at least took bronze behind the US duo Justin Gatlin and Christian Coleman in the final individual race of his career.
Unbeaten at 100m for more than two years, since the Eugene IAAF Diamond League meeting on 30 May 2015, Thompson crossed the line fifth in 10.98 – 0.27 down on her world lead.
The diminutive Ivorian Marie-Josee Ta Lou got off to a flying start and looked to have the gold medal in the bag all the way – only Tori Bowie, still one metre down with 40 metres to go, after her own poor start, stole up on her outside and snatched victory on the line with a dip that was timed to absolute perfection, in the style that took Britain's Harold Abrahams to his Chariots of Fire Olympic gold in Paris in 1924.
Bowie, runner-up to Thompson in last year's Olympic final in Rio, crashed to the track unaware that she had pulled victory out of the bag – by 0.01 in 10.85, with Dafne Schippers of the Netherlands taking bronze in 10.96.
For the first time since Gatlin and Lauryn Williams triumphed in Helsinki, the US had matching men's and women's 100m world champions.
WALSH BUILDS KIWI GOLD IN GREATEST EVER DEPTH SHOT COMPETITION
It was the night when all of those years spent building up his muscle bank carrying bricks on a building site paid off for 25-year-old New Zealander Tom Walsh. Olympic champion Ryan Crouser of the US might have arrived in London as favourite, courtesy of his monster 22.56m throw in Sacramento in June, but it was Walsh who had the form when it mattered most.
Backing up his 22.14m effort in qualifying on Friday, the Olympic bronze medallist took the lead with 21.64m in round two, then improved to 21.73m in round three and 22.03m with his sixth and final effort

Crouser could only finish sixth with 21.20m. His teammate Joe Kovacs claimed silver with 21.66m, though he might have soiled the Kiwi party had he not fouled his final mighty effort, and Croatia's Stipe Zunic bronze with 21.46m.
It was the best in-depth competition in history, with seven men throwing 21.09m or farther and 11 20.79m or better.
STEFANIDI CONQUERS HER FEARS TO CLAIM GOLD AND A GREEK RECORD
For a woman who suffers from acrophobia, a fear of heights, Ekaterini Stefanidi is making a habit of pushing herself into the discomfort zone – and emerging with gold medals.
A year after propelling herself to winning heights at the Olympic Games and European Championships, the 27-year-old Greek soared over a national record mark of 4.91m as she added the world title to her expanding collection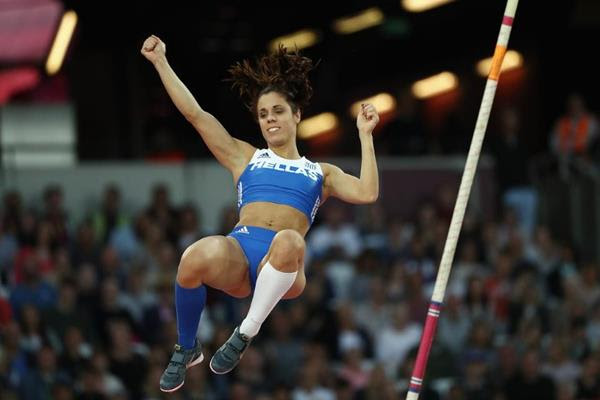 "I am scared of heights," Stefanidi confessed. "I do get dizzy when I get to a certain height – when there's a possibility of falling."
Maybe the acrophobia caught up with her when she had the bar raised to 5.02m; she knocked it off three times.
As in Rio last year, Sandi Morris of the US took silver, clearing 4.75m, with second-time successes at 4.65m earning bronze medals for Cuba's Yarisley Silva and Robeilys Peinado, the first Venezuelan to make a world outdoor podium.
THIAM PUTS BELGIUM ON THE MAP WITH FIRST WORLD CHAMPIONSHIPS GOLD
As Nafissatou Thiam crossed the finish line at the end of the final event of the heptathlon, the 800m, Belgium celebrated its first gold medal success in the 34-year history of the IAAF World Championships.
Trailing Germany's Carolin Shafer overnight by just 22 points, Thiam regained the lead with a solid performance of 6.57m in the fifth event, the long jump, then followed up with 53.93m in the javelin and a leisurely 2:21.42 in the 800m to finish on top with 6784

It was 229 points down on the massive 7013 score that the 22-year-old Belgian registered at Gotzis in May but, 12 months after claiming Olympic gold ahead of Britain's Jessica Ennis-Hill, the geography undergraduate at the University of Liege put her country on the World Championships gold medal map for the first time – going one better than Phillip Milanov managed with his silver in the discus in Beijing two years ago.
Germany's Carolin Schafer took silver with 6696 and European champion Anouk Vetter of the Netherlands bronze with 6676 – thanks largely to a championship heptathlon javelin best of 58.41m – ahead of fourth-placed Cuban Yarisley Rodriguez (6594) and fifth-placed Briton Katarina Johnson-Thompson (6558).
ROSE A THORN IN EDNA'S SIDE
With two kilometres to go in a race that built up to a thrilling crescendo on the last of four laps of central London, history was beckoning Kenya's Edna Kiplagat. The winner in Daegu in 2011 and Moscow in 2013, the 37-year-old Kenyan looked poised to become the first man or woman to complete a hat-trick of world marathon titles after reeling in and forging ahead of Bahrain's Rose Chelimo.
Approaching the Tower of London, however, Chelimo closed the gap and surged on to victory in 2:27:11, following in the footsteps of middle-distance trio Rashid Ramzi, Youusef Saad Kamel and Maryam Jamal as the fourth Bahraini athlete to claim a world title

The deflated Kiplagat finished seven seconds back in 2:27:18 – at 37 years 264 days, becoming the oldest medallist in the event (dislodging Italy's Valeria Straneo, who was 141 days younger when she took silver behind the Kenyan in Moscow in 2013).
Amy Cragg of the USA closed hard on the heels of Kiplagat for third place in the same time after a ding-dong battle for bronze with Commonwealth champion Florence Cheyech Daniel of Kenya, who finished fourth in 2:27:21.
KIRUI PUTS KENYA BACK ON TOP
After two World Championships without a Kenyan man on the marathon podium, normal service was resumed as Geoffrey Kirui emerged victorious from a thrilling duel in the sun with Ethiopian's Tamirat Tola.
Winner of this year's Boston Marathon, 24-year-old Kirui had to dig deep to hang on and then overhaul Tola after the Olympic 10,000m bronze medallist stole what looked like a decisive gap early on the fourth and final lap

Kirui finished 1:22 clear in 2:08:27, with Tola second in 2:09:49 – just two seconds ahead of bronze medallist Alphonce Simbu, Tanzania's first medal winner in any event at the IAAF World Championships since Christopher Isegwe took silver in the men's marathon in Helsinki in 2005. Britain's Callum Hawkins, prominent at the front early on, was a valiant fourth in 2:10:17, a lifetime best.
ELSEWHERE…
The highlights in non-final rounds included a stunning 43.89 Bahamian record for Steven Gardiner in the men's 400m semis, in which Olympic champion Wayde van Niekerk advanced with a smooth victory in 44.22, and in women's javelin qualifying, in which Lyu Huihui threw an Asian record of 67.59m.
MEDAL REALLOCATIONS
The evening began with the home crowd savouring the formal coronation of Jessica Ennis-Hill as a three-time world heptathlon champion, the now-retired Briton matching the hat-tricks achieved by Jackie Joyner-Kersee of the United States and Sweden's Carolina Kluft